Harmony in Chakras is now available for order!
The book is a substantial text. The 30+ authors contributing I knew would make it a lengthy piece, but the book quality itself is also impressively robust and heavy like a true textbook. I see this supporting the feel a reader may receive from picking it up; this isn't a flimsy writing collection, but a well-researched collaboration that houses decades of experience of all of these practitioners.
The AwakenFair event and book launch on August 9th event proved fruitful and offered me insight into the potential for these volumes and the collective. Visitors attended mostly on behalf of supporting their known author and unknowingly entered a space where they could absorb resources from multiple specialists. They flipped through book samples, talked with other authors and won prizes including complimentary services and products.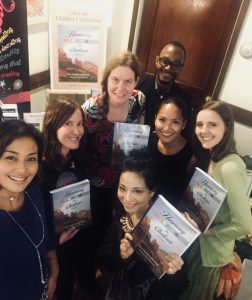 (At AwakenFair Event)
From conversing with attendees, I observe there's quite a vast spectrum of understanding in this space. Some people are just beginning to learn about chakras and consciousness itself; they've "awakened" and show desire for more knowledge. Others are more experienced but dissatisfied with what's currently out there on the subject. Some value being in the same space with people of like-vibration. The community built within the collective has potential to form a valuable web for each of these groups because the approaches are so diverse.
This book resembles my personal methods for learning about something, where I dig into as many resources as intuitively necessary. The question is, "What's already out there?" And, "What do I already know about this based on my connection to the divine?" Once done, combined with my own reasoning I come to conclusions about the knowledge gained. I then have understanding on how to apply the knowledge, making it a technology.
Harmony in Chakras Collective
Our goal is to compile our skill sets and cover subjects in different volumes, with chakras as the foundation. Here's the current roster:
The Feng Shui, Chi Reader and Dream Decoder
Ivy Black
The Creatrix
Dee Savoy
The Psychics & Mediums
Erolina
Joan Carra
Yaffa Regev
The Energy Workers, Intuitives and Teachers
Leah DeSanto
Nanci Deutsch
The Lovers of Essences: Crystals, Plants and Flowers
Laurelle
Martha Vallejo
Shanna Marie
Ashni
The Heart Nurturers
Tiziana Rinaldi Castro
Heidi Elias, LSCW, SEP
Desiree Mwalimu-Banks
Noelle Lauren
The Storyteller
Anthony James Canelo, CNHP, MH
The Holistic Practitioners
Munira Merchant, B.S.A.M (Ayurvedacharya)
Alicia Armitstead B.S., D.C.
Monica Bennett, ND
The Dance Groover 
Maria Gutierrez
The Meditation Guides & The Yogis
Denise Galon, PhD, LCICI, CMT, RA, TCM, D.AYUR
Rita London
Lakshmi Voelker
Brenda Yarnold
The Doctor and The Nutritional Intuitives & Visionaries
Kaz, Mirza, MD
Stella Preston
Ashley Sperber
Elizbeth M. Tripp
Carmela Villaroman Velarde
The Sound Healer, The Cantor & The Painter
Carlos Cuellar Brown
David Presler
Jo Jayson
The Coaches
Trent Rhodes
Olivia Whiteman
Book Orders
To purchase direct, the book is $26 including shipping. You can Venmo me (Trent Rhodes) or PayPal (connect@masterlearn.co) and include your delivery address. Purchasing online will be available soon.