The writing range I have warranted I create a division between the styles. My interests really don't have a limit, however there are key areas I'm more invested in: self-education, knowledge and mastery of Self, professional development and creative writing.
The creative writing has its own content large enough to grow into its own ecosystem. This is what birthed the alias Julian Von Craft. Writing from that handle, I create metaphysical fiction, poetry and any kind of piece outside the range of everything else. Craft is named so because writing IS a craft, one that he personally views as a spiritual capacity capable of  producing quite the most effective results.
Transformation in readers. Transformation in writing.
That and enjoyment of the process creating worlds. Characters are thought forms that stem from our own being, water droplets that emerge from the ocean, just like all forms are droplets from the ocean of the creator of the universe.
Handwriting's benefit is a scientific acknowledgement; children growing up lacking handwriting practice, strictly typing by tablet are missing out on a different set of neural pathway connections facilitating memory, deep memory. The kind that integrates an understanding into our cells. When we hand write, we take our time with thoughts; at times they can develop faster than our hand moving the pen. We scratch out, erase or use correction fluid more often due to this. Writing on paper challenges us to think ahead and make an accurate match of what we experience in the mind onto the page, through the hand's motion.
So…while we adopt newer technologies, let us not neglect this one. Develop both.
To facilitate handwriting practice, J.V. Craft has a pen pal campaign, where anyone can write him an old-fashioned letter and he'll respond. Here's the address: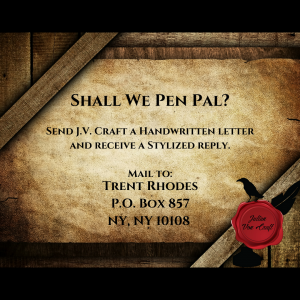 Send me a note and let's have fun while maintaining this special craft.